Companies have lost their clout with consumers. Today prospective buyers are likely to bypass carefully curated brand marketing materials in favor of advice from existing customers or clients.
Consumers are increasingly turning to each other and not the brand for inspiration throughout their buying journeys. They now control many moments of the customer journey, as well as much of the content that shapes how others shop.
The Strength of UGC
The content they produce — from ratings and reviews to videos, blogs, discussion forum posts, digital images and audio files — is known as user-generated content (UGC). And it's outperforming brand-produced content, statistics show.
86 percent of consumers say authenticity is important when deciding which brands they support, and 60 percent of consumers rate UGC as the most authentic form of content (Stackla, 2017)
70 percent of US consumers say they are more likely to buy a product after seeing a positive or relatable consumer-generated image of it online (Olapic, 2017)
73 percent of consumers say UGC increases their purchasing confidence — and 65 percent describe it as more interesting than content created directly by the brand (TurnTo, 2017)
In her 2017 Internet Trends report, Mary Meeker, a partner at venture capital firm Kleiner Perkins Caufield & Byers, noted UGC drives engagement. On Facebook, for instance, user-generated branded content earns nearly seven times higher engagement than brand-generated posts on Facebook.
Why UGC
UGC is a modern name for an old-fashioned concept. People have always asked friends and neighbors for referrals. They've always asked for advice on what or how to do things.
Digital technologies have just broadened the scope. We now have access to these traditional neighborly insights on a global scale. And people love it.
UGC gives shoppers the information they need to make informed purchase decisions. What's more, it's fresh, fast, and ever-expanding.
Think about it. Everyone has an opinion — and a surprisingly large number of those people are willing to share those thoughts. Every. Single. Minute.
In just 60 seconds, users share 18 million status updates on Facebook, generate more than 21 million tweets on Twitter, and upload more than 3 million new images on Instagram.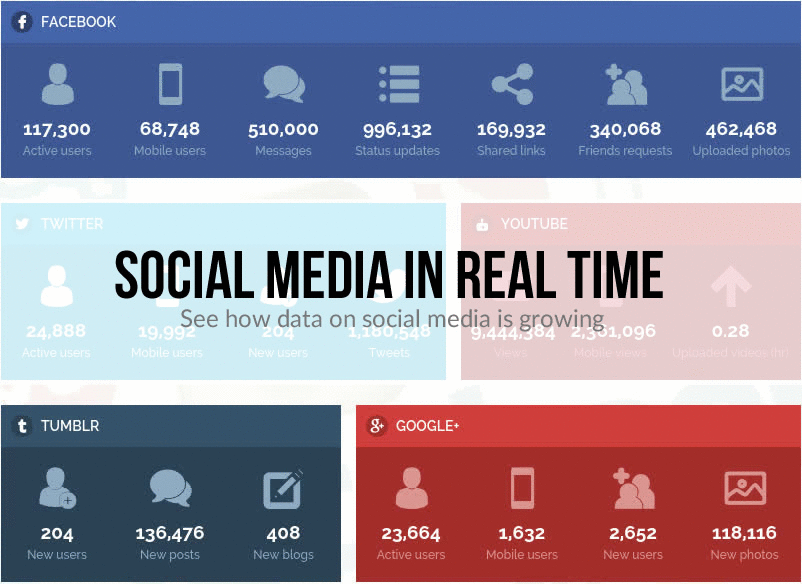 What Brands Should Know About UGC
UGC opens many doors for brand marketers. As Sprout Social notes in its fourth quarter 2017 Social Index, brands now have unparalleled opportunities to share the most meaningful moments of their customers' lives in an authentic, consumer-driven way.
"Whether it's polling their peers for their latest recommendations, or shouting the praises of their most trusted products, today's consumers are already recognizing and sharing the role their favorite brands play in their lives' major moments and milestones.
"And the more brands can learn how to tap into the motivations and emotions behind that behavior, the better their chances of connecting with their audiences and turning consumers into loyal, lifelong advocates," the report states.
Unhappy Customers & Other Risks
But UGC also creates new responsibilities. While it can accelerate brand recognition faster than ever before, the wrong content can decelerate it just as quickly. And the reality is people tend to complain faster than they compliment.
Unhappy customers are almost three times more likely to tweet about their grievances than happy customers are to compliment the strengths and merits of the brands on Twitter.
UGC raises legal risks, too — ownership and licensing, privacy, monetization, and false statements, to name a few. "As valuable as user-generated content can be, it has to be weighed against the corresponding risks, which can be substantial. And, unless you want frontline employees making that decision every day, you have to create digital policies addressing the potential issues," digital policy expert Kristina Podnar wrote.
What could go wrong? Plenty. Brands should have, at least, manual governance to address potential complications.
They need to understand what permissions or rights they have to use UGC. They also need a way to deal with potential disputes, such as the crediting of similar creative concepts submitted simultaneously.
Best UGC Practices
To make the most of UGC, companies need to manage it. One sophisticated solution involves the use of a UGC platform like Stackla, which helps companies effectively combine user-generated content with branded content. "Stackla is a great solution that we've been familiar with for a long time," Arke CMTO Chris Spears said.
Just recently, Stackla announced a partnership with Sitecore that aims to help companies deliver personalized, user-generated content experiences at scale.
Sitecore is integrating Stackla's UGC platform into its Experience Cloud platform. That will make it easier for Sitecore customers to deliver highly personalized brand experiences with fresh, real-time UGC, according to Sitecore CEO Mark Frost and Peter Cassidy, Chief Product Officer and co-founder of Stackla.
Stackla relies on predictive intelligence and automation. It uses both to help brands find compelling customer content and showcase it on their own marketing channels. That increases engagement, strengthens customer trust, and drives sales, Cassidy said.
Sitecore plans to offer Stackla software with all Sitecore Experience Cloud products, including Sitecore Experience Platform, Sitecore Experience Manager, and Sitecore Experience Commerce.
The Stackla for Sitecore UGC Connector enables Sitecore customers to dynamically display user-generated content across their digital marketing experiences.
The Future of UGC
It's still early days for UGC. But for marketers, "UGC is the gift that keeps on giving: it's authentic, freely available, constantly improving in quality, always fresh and increases by the billions every day."
Brands can leverage UGC in many ways. Think about peer reviews, photos of products or services in use, referrals, testimonials, and videos. For inspiration, check out:
Want to talk through a UGC idea for your business? Click here to schedule a free session with the Arke strategy team.
About Arke
Atlanta-based Arke develops strategies and implements digital technologies for better brand experience for your customers.