Some of you may be on the fence about whether to join in and sponsor a virtual conference or just 'wait till things go back' to some sense of what we call 'normal'.
Virtual conferences are here to stay. While we might all meet again in person at some point, as a marketer, I can't afford to wait for that. With that context, we decided to pivot our planned sponsorship of a local event as they moved online. I wrote this blog to share our experience and lessons to help you, if you are considering a virtual event. I have also peppered this blog with some statistical evidence and expert perspective beyond our own experiences that lead us to believe that virtual conferences will have their place in the event market long after the pandemic has run its course.
"7 out of 10 respondents have moved their face-to-face events partially or fully to a virtual platform, and many don't see that as a short-term fix." Event Marketer, 2020
The Preparation
The preparation for a virtual conference was fairly similar to an in-person event. We wanted to create a visitor experience that felt tailored to the event but was consistent with our branding. We wanted to promote an offer specifically geared to event attendees. And we wanted to offer a giveaway that would be eye catching and relevant to the times. Our virtual goals aligned to an in-person event— capture as many emails as possible, do our research and create a meaningful follow up with prospects that were a good match for us.
The preparation work included creating virtual booth graphics, informational PDF downloads and ideas for a promotion and a giveaway. We had the same hopeful optimism that our booth design would look as great virtually as when we show up at physical event for set up.
We game-planned as a team how we would ensure live coverage of our digital booth, just as if we were in person. We reviewed the session topics and considered which of our digital assets would align best as conversation starters in the message channels vs. prepping topics for a lunch or dinner setting. All our team members had those links handy throughout the entire event ready to engage in conversations when relevant.
The Day Before
Just like showing up at an event the day before (travel, set up, etc), we jumped into the virtual platform the day before to check out our booth, promotions and handouts as well as our fellow sponsors booths and their offers. We were pleasantly surprised by the amount of chatter already occurring between the people logged in for the pre-conference workshops. We already had people registering for our giveaway offer and lots of people introducing themselves in the virtual lounge. This was almost as good as hitting the hotel bar the night before the event starts!
The Event Days
As I rolled my chair up to my desk the first morning of the event, I had a surreal feeling because I could so easily envision what the original in person event would have been like. I could imagine setting my alarm for an early run, grabbing a coffee on the way back in, cleaning up and remembering my event badge before heading down to open up our booth. Instead of wandering over to the ballroom to check out the opening keynote, I just clicked a 'Watch Now' button, while simultaneously keeping an eye on message traffic.
What a pleasant surprise! There were lots of comments running during the presentation. All of the comments you want to lean over and make to the person next to you, you could simply share to the message threads. The audience engagement was even better in a virtual environment than in person. Attendees could add comments as they thought of them, post questions in the moment feeling confident they would get answered and begin creating connections with other attendees based on like minded comments and questions. We could have all the constructive interaction without being rude or disruptive to the presenter. Some of the presenters had prerecorded their sessions but were available for the live Q & A follow up. Having presented at many conferences, that seems like a great option for presenters.
Executive Vice President and CMO Stephanie Buscemi of Salesforce told Forbes:

"When you look at the pendulum swinging 100% to this virtual world right now, I don't think the pendulum will come fully back even when we have a vaccine and it's fully safe and social distancing dissipates or the parameters aren't there," she says. "I do think the pandemic, whether we like it or not, has been an impetus for digital transformation and I think B2B companies will in the long run benefit from that."
As sponsors, we were able to mill around on the message threads and have a front row seat to learn which content was more interesting and engaging to the audience. We could respond to questions and comments with valuable and relevant content and resources in real-time which added a great deal of value to the experience.
Attendees could click in and out of virtual booths and indulge their curiosity without the dreaded eye contact with sales people. In this case the self-serve environment of a virtual booth seemed to resonate well with the event participants. And, we were also able to have more of our team participate in the event, which was great for learning and networking while still providing event booth coverage. Try being at three places physically in a live event. Doesn't work!
By 2021, it is projected that video, including web conferencing will account for 80% of all internet traffic. See the entire info graphic at Smallbiztrends.com
The Day After
During our post event debrief, the team's feedback validated the decision to sponsor a virtual event. Not only did we get great interaction with our digital booth but our ability to capture lead data about those individuals that engaged with us far exceeded our initial expectations.
86% of participants in online meetings report equal or higher levels of engagement compared to in-person. See the entire info graphic at Smallbiztrends.com
In addition, we felt our reach was much greater than a typical live event and all our visual content (PDFs, landing page and video) and written content (blogs, captured comments, and anecdotal stories from attendees) become assets to be reused and leveraged in future communications.
The Verdict
Overall, I am relieved I don't have to strike events out of our marketing strategy. Our first virtual conference is delivering on the investment in terms of leads generated and attendee engagement.
This event did experience glitches with audio outages, private chats that showed up publicly, miscommunications to sponsors on digital asset prep, and a few other minor hiccups. Again, these were similar hiccups to live events; these were comparable to booth monitors not working and missing cords.
We learned interesting tactics that helped drive engagement. One example was a digital scavenger hunt. Another was enticing interaction by answering a question in a chat channel to be registered for a giveaway.
The big savings came from saved preparation time (due to no logistics with pre-event shipping) and no hassles or expense for travel and lodging or post-event shipping.
"We believe people will always value physical, face-to-face experiences, so marketing events won't disappear anytime soon. However, those marketers who employ digital approaches to personalize every attendee's experience will earn a better return from their events."
Forrester 03/2020
We feel the virtual experience is here to stay and the experience will continue to improve over time. One recommendation is to understand the the differences in the the various alternatives to live events. See the chart below from Forrester Research that spells this out very clearly.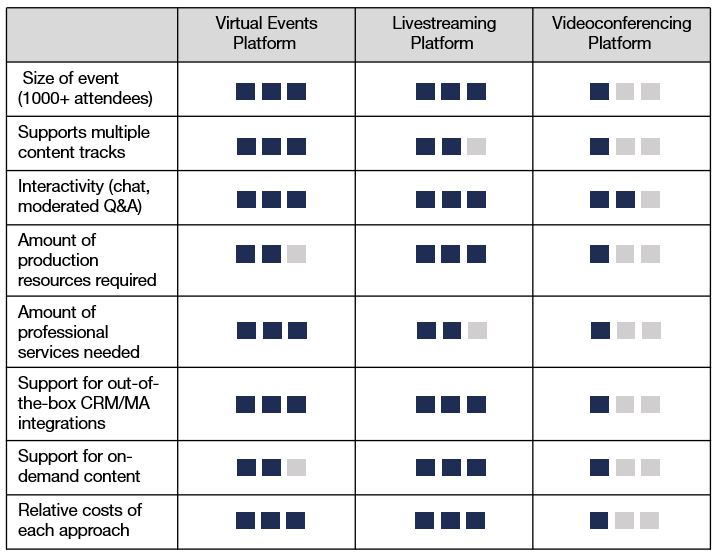 The Final Word
Make sure you understand the different varieties of virtual conferences and how they work. Realize that the digital aspect of the event  helps both attendees and sponsors alike to capture information and to maximize the experience. Our team is already looking for our next virtual conference opportunity- hope we'll see you there!
---
Want to share your experiences and discuss best practices to expertly navigate virtual events?. Contact us to schedule some time to chat or go straight to our calendar and book a spot.